Publication : « Electronic Devices for Safeguarding Indigenous Languages and Cultures (Eastern Siberia) »
Varlamov A., K. Galina, and A. Lavrillier. 2020. Electronic Devices for Safeguarding Indigenous Languages and Cultures (Eastern Siberia). In Timo Koivurova, Else Grete Broderstad, Dorothée Cambou, Dalee Dorough, and Florian Stammler (eds) Routledge Handbook of Indigenous Peoples in the Arctic, London and NY : Routledge, pp. 58-75.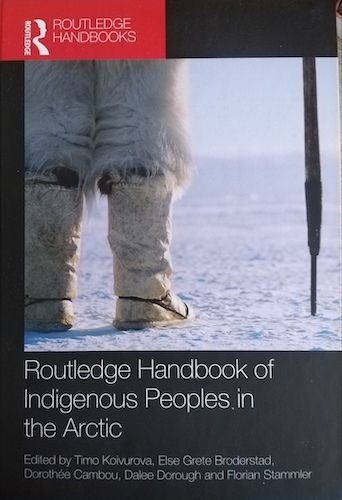 About the book
This handbook brings together the expertise of Indigenous and non-Indigenous scholars to offer a comprehensive overview of issues surrounding the well-being, self-determination and sustainability of Indigenous peoples in the Arctic.
Offering multidisciplinary insights from leading figures, this handbook highlights Indigenous challenges, approaches and solutions to pressing issues in Arctic regions, such as a warming climate and the loss of biodiversity. It furthers our understanding of the Arctic experience by analyzing how people not only survive but thrive in the planet's harshest climate through their innovation, ingenuity and agency to tackle rapidly changing environments and evolving political, social, economic and cultural conditions. The book is structured into three distinct parts that cover key topics in recent and future research with Indigenous Peoples in the Arctic. The first part examines the diversity of Indigenous peoples and their cultural expressions in the different Arctic states. It also focuses on the well-being of Indigenous peoples in the Arctic regions. The second part relates to the identities and livelihoods that Indigenous peoples in Arctic regions derive from the resources in their environments. This interconnection between resources and people's identities underscores their entitlements to use their lands and resources. The third and final part provides insights into the political involvement of Indigenous peoples from local all the way to the international level and their right to self-determination and some of the recent related topics in this field.
This book offers a novel contribution to Arctic studies, empowering Indigenous research for the future and rebuilding the image of Indigenous peoples as proactive participants, signaling their pivotal role in the co-production of knowledge. It will appeal to scholars and students of law, political sciences, geography, anthropology, Arctic studies and environmental studies, as well as policy-makers and professionals.