Benjamin Combes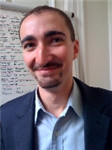 combesb [at] gmail.com

 Benjamin COMBES is a PhD student at University of Versailles Saint-Quentin-en-Yvelines.
His researches focus on the subject " Environmental Justice in Paris Metropolitan Region: considering accumulation of environmental risks and way to encourage public participation and empowerment of vulnerable communities". 
The interests of theses researches are oriented towards environmental justice hotspots identification and policy approach. The project fosters community-based participatory research to explore what is at stake in the well-being of the public in disfavored environmental areas.
That will contribute to a better definition of the concept of environmental justice hotspots that can be used by decision-makers to involve the public in remediation process.

 CV
2010-2012: OCP Partners – Business Developer

2007-2010: Amezis – Corporate Responsibility Consultant

2005-2007: Global Village of Beijing (Chinese Environmental NGO based in Beijing) - Project Coordinator

2002-2004: Sciences-po Graduate Institute of Political Science, Paris, France. Master of Public Administration

2000-2003: INALCO, Institute of Oriental Languages and Civilizations, Paris, France. DULCO (three-year degree) in Mandarin Chinese (language and civilization).
Last revision date: January 2015